In the above table you find in brown the best seller pizza oven in Asia. About gas we usually install 2 types: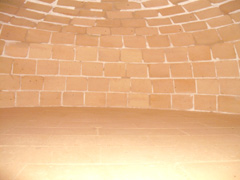 the Mini Spit Revolution III or the new generation Spitfire Electronic. Both are certificated and fully automatic. Plug and play: the system check the correct power source, if no ground available or the neutral and phase poles are reversed it simply won't start. If the power source is correctly connected it will initializes the circuit, will start the blowing of air and gas in the correct mixture proportion, it will electronically ignition the burners and the flame will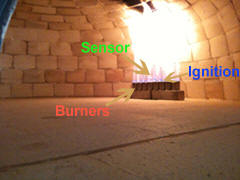 fire. Few seconds after a new system check will run in the machine and if something is not as it should be, the system will go off automatically closing the gas and it will necessary to restart it again (by pushing the reset button). All the system are provided with security thermostat and digital thermometer, the flame can be set up as automatic or manually controlled, up to the habits of the pizzaiolo (pizza man). Moreover we also have a smaller gas system if the size of your oven is very small or you don't need to cook many pizza every day but it has the same safety features of the bigger system, the GR 58. All system are from Italy (Millberg Company), a many years experienced factory in gas burners for bakery and pizzeria ovens. More details of gas system here.
For precautions in use of a wood burning pizza oven please visit the FAQ page in the topics section
We build the pizza oven (in refractory bricks or assembled if prefabricated) and set up the gas system with delivery without extra charge in: Bangkok (กรุงเทพมหานคร), Chonburi (ชลบุรี), Phuket (ภูเก็ต), Chiang Mai (เชียงใหม่), Chiang Rai (เชียงราย), Lampang (ลำปาง), Mae Hong Son (แม่ฮ่องสอน), Kanchanaburi (กาญจนบุรี), Phetchaburi (เพชรบุรี), Buri Ram (บุรีรัมย์), Chaiyaphum (ชัยภูมิ), Khon Kaen (ขอนแก่น), Mukdahan (มุกดาหาร), Nakhon Phanom (นครพนม), Nakhon Ratchasima (นครราชสีมา), Nong Khai (หนองคาย), Sakon Nakhon (สกลนคร), Surin (สุรินทร์), Ubon Ratchathani (อุบลราชธานี), Udon Thani (อุดรธานี), Ayutthaya (พระนครศรีอยุธยา), Lop Buri (ลพบุรี), Nakhon Nayok (นครนายก), Nakhon Pathom (นครปฐม), Nakhon Sawan (นครสวรรค์), Nonthaburi (นนทบุรี), Phitsanulok (พิษณุโลก), Sukhothai (สุโขทัย), Samut Prakan (สมุทรปราการ), Samut Songkhram (สมุทรสงคราม), Saraburi (สระบุรี), Suphan Buri (สุพรรณบุรี), Chachoengsao (ฉะเชิงเทรา), Chanthaburi (จันทบุรี), Prachin Buri (ปราจีนบุรี), Rayong (ระยอง), Trat (ตราด), Krabi (กระบี่), Nakhon Si Thammarat (นครศรีธรรมราช), Phang Nga (พังงา), Ranong (ระนอง), Songkhla (สงขลา), Surat Thani (สุราษฎร์ธานี) and many more in Thailand and around Asia (out of Thailand extra charge) like Malesya, Hong Kong, China, Cambodia, Laos (LAO PDR), Japan and many more.
If you already focus on one kind of oven or if you just would like to have more information give us a call to 0813674994 (+6676284450 from outside Thailand) or send an email, thank you.